Features
Battle Bolts is a 4 player multiplayer game where you lead your remotely controlled tank in the battle and wreak havoc on the 6x6 or 8x8 battlefield.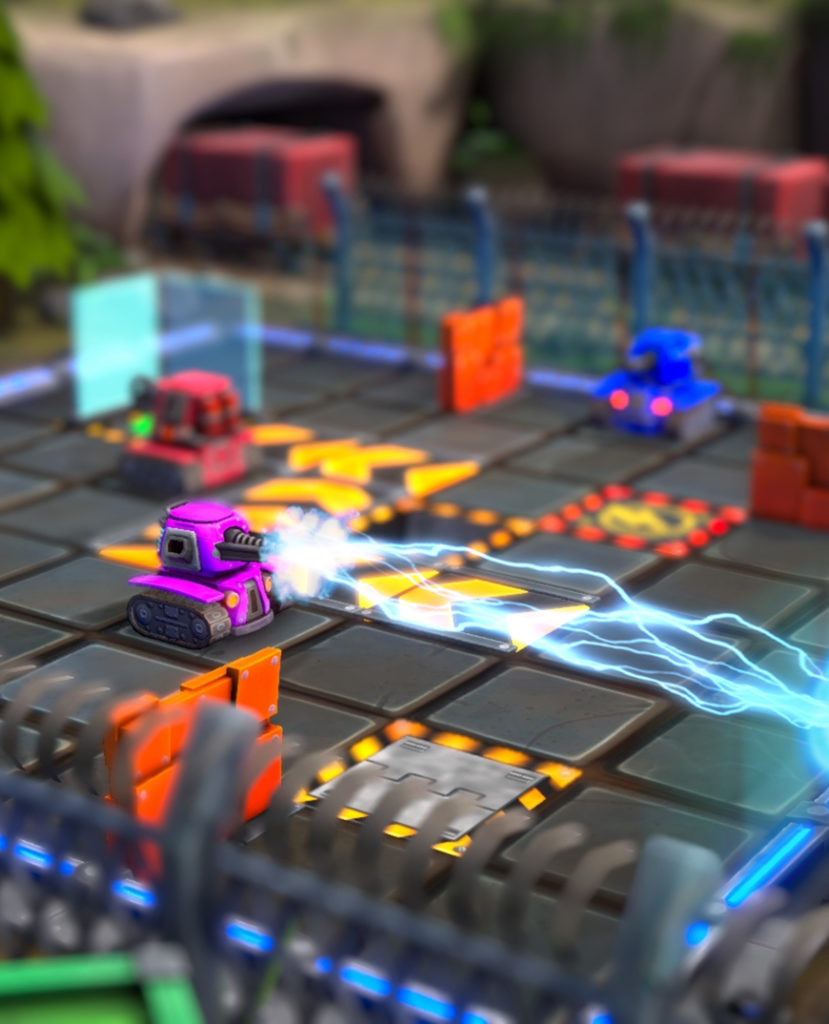 Turn-based

Think ahead and plan your next 4 moves very carefully, as the opponents can be pretty unpredictable. Use board elements to your advantage and destroy opponents in a game of cat and mouse.

Action moves

Use your action moves like dash and strafe to pull unexpected stunts and confuse your enemies. Always be on the move!

Deadly arena

Arena tiles are not just an eye-candy; avoid pits, use conveyor belts to move around, hide behind walls, and watch out for surprises - as they can be deadly.

Power-ups

Use power-ups to your advantage - tear them a new one!

Board-game looks

Remember that holo-chess game they played in Episode 4 while riding Falcon? Now you get to experience that same thrill as Battle Bolts offer stunning real-life board game look, just more... alive.

Multiplayer

Go to war with up to 4 players online or offline (couch-versus).
Tanks
Nothing burns hotter then, well, fire. Use this tank's hot balls of fire to your advantage and let the enemies burn!
Front special:
Three-way flamethrower burst.
Side special:
Napalm grenade that sets everything on fire.
With this vampiric tank, you can drain life of your enemies to gain advantage on the battlefield. It's as powerful as it's scary, but once you test it, it will be love at first bite!
Front special:
Double heal on succesful hit.
Side special:
Single heal on succesful hit.
Volt – Charge up, free your mind, chant your best Ooooohm and electrocute your enemies with your deadly powercoil. This remotely controlled Volt-Wagon is the peak of German tank industry.
Front special:
Chain lightning.
Side special:
Lightning orb.
Bullseye – This RC tank is excellent long range sniper raining heavy damage on unsuspecting targets. When you blow up enemy tank, only thing your cold heart will feel is the recoil of your canon.
Front special:
Unstoppable piercing shot.
Side special:
Homing missiles.
Why Early Access?
"Battle Bolts has the core gameplay and majority of game content already implemented. As the release date nears, it's also important that players share their feedback with us, so to create an even better and more balanced game, a game that's super fun to play! That's why we think that Early Access is a perfect way for us to start shooting and lobbing shells at each other."
Approximately how long will this game be in Early Access?
"We plan on having a short and sweet Early Access campaign for Battle Bolts. The game will leave Early Access once the online support is added and core mechanics are fine-tuned."
How is the full version planned to differ from the Early Access version?
"Throughout Early Access, Battle Bolts will retain the overall board-game look and feel, while we add online support, tweak the character stats and make subtle changes to the rules in order to achieve better balance. The number of bugs will go down, and the fun factor will go up."
What is the current state of the Early Access version?
"Early Access version of Battle Bolts provides quite a unique experience and a lot of fun to competitive players fighting for the top spot. The core gameplay is there and the game is playable offline against friends or bots, several different characters and a bunch of game-changing elements to spice things up."
Will the game be priced differently during and after Early Access?
"The base price may rise when we leave Early Access."
How are you planning on involving the Community in your development process?
"We welcome all community feedback and we'll do our absolute best to respond, by replying directly and taking your ideas into consideration. We're always available on Steam forums, our social media channels, and our Discord server, so please join us and help make Battle Bolts a better experience."